Activities
We are a family friendly property where attention has been set to cater to your childrens safety and needs. The property is gated and your children can enjoy the children's play ground, play various games set up in the grounds, learn how to handle an ATV.
Activities we offer: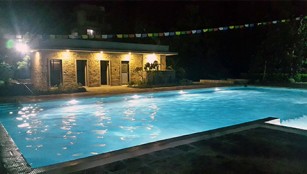 Swimming Pool
We have well maintained 58 feet X 26 feet and 4 ½ feet swimming pool with a jacuzzi pool by the side. Room guests have free access to the swimming pool and can enjoy chilled beer or beverages while sitting on the jacuzzi. Groups can enjoy Water polo and other water games on the pool. We do have a small swimming pool for your children.
Other guest are required to pay for the use of swimming pool.We charge extra Nrs. 800 per person other than staying on our property.
We are planning to operate movie by the swimming pool very soon on the quiet evening.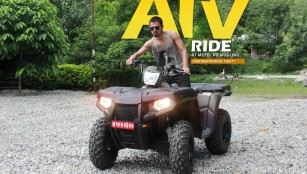 ATV Ride
An all-terrain vehicle (ATV), also known as a quad, quad bike, three-wheeler, four-wheeler, or quadricycle as defined by the American National Standards Institute (ANSI) is a vehicle that travels on low-pressure tires, with a seat that is straddled by the operator, along with handlebars for steering control. As the name implies, it is designed to handle a wider variety of terrain than most other vehicles.
We are the first one to introduce it commercially on our property. One can take 30 minutes to one hour on the tracks built inside our property that leads down to the river beach.
They are not toys and are expensive and powerful machines hence our ATV guide will provide you with basic trainings on how to use it and only allow you to ride around the trail down the river.
Rates:
ATV: 30mins = 3500 | 1 hr = 5000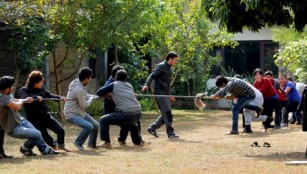 Corporate Retreats
Corporate Retreats are for corporate office and groups who wants team building activities during their stay. The resort on request can organize different team building activities for your group, the group needs to pre inform the resort a day earlier for the activity.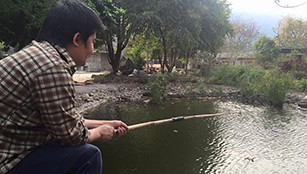 Pond Fishing
We have our own private fish pond where we have raised varieties of fish. One can spend a quality time fishing on our pond. You are to pay for what you catch and can ask the resort kitchen to cook it for you.
The resort charges NRs 2000 per kg or accordingly for fish you catch.