Accomodation
Motel Du. Mugling (also know as mDm) is located on a bluff overlooking the mighty Marsyangdi and Trisuli Rivers; opposite Muglin Bazaar. Currently 8 rooms are in operation with another 4 Family/Suite rooms to be renovated and operated in the coming months. All rooms come with Air Conditioning, LED TVs, attached bathrooms, and Private Balconies overlooking the Marsyangdi and Trisuli Rivers.
We are a family friendly property where attention has been set to cater to your childrens safety and needs. The property is gated and your children can enjoy the children's play ground, play various games set up in the grounds, learn how to handle an ATV.
The property is set amidst a beautiful garden with a private pool where room guests can relax or enjoy our facilities round the clock.
We also provide Tented camps but are seasonal i.e October to Febrauray.
Super Deluxe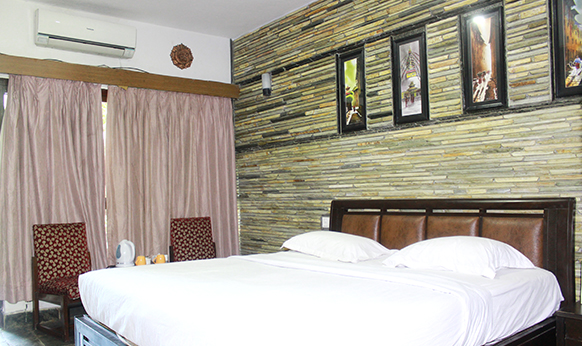 basic amenties
Air-Conditioned
Attached Bathrooms
Swimming Pool Access
King size Bed
Private Balcony
Private Jacuzzi( Cold water only )
Electric Jug Plus Tea
Television Facility
Mineral Water
Fridge
We have a single king sized bed Super Deluxe room which is carved with stones and has a private jacuzzi pool and private freeze loaded with booze and soft drinks.
Accomodation Price
| | |
| --- | --- |
| Room Type | BB |
| Single | Nrs. 4000 |
| Double | Nrs. 5000 |
* 10% service charge and 13% VAT extra applicable as per the government of Nepal
Deluxe Room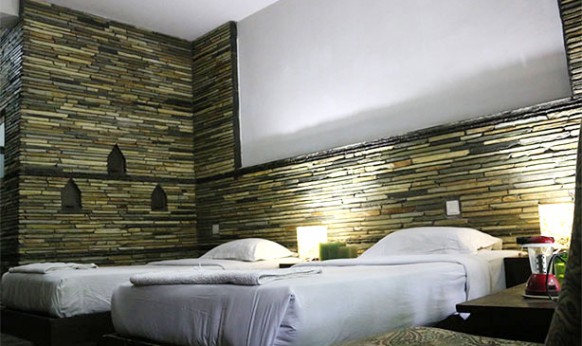 basic amenties
Air-Conditioned
Attached Bathrooms
Electric Jug Plus Tea
Swimming Pool Access
2 Queen size Bed
Private Balcony
Complimentary Mineral Water
We have 7 deluxe room, beautifully carved with stones on the walls. The deluxe room is available only on twin sharing and has access to private balcony.
Accomodation Price
| | |
| --- | --- |
| Room Type | BB |
| Single | Nrs. 3200 |
| Double | Nrs. 4000 |
| Extra Bed | Nrs. 1200 |
* 10% service charge and 13% VAT extra applicable as per the government of Nepal
Twin/Triple Sharing basis
Accomodation Price
Group Rates On Per Person Basis(Minimum 15pax required)
| | |
| --- | --- |
| BB | Nrs. 1800 |
| MAP | Nrs. 2500 |
| AP | Nrs. 3200 |
| MAP + Snacks | Nrs. 3500 |
| MAP + BBQ | Nrs. 3500 |
| MAP + Snacks + BBQ | Nrs. 4500 |
* 10% service charge and 13% VAT extra applicable as per the government of Nepal
* BB = Bed & Breakfast
* MAP = Lunch or Dinner,Bed & Breakfast
* Ap = Lunch,Dinner, Bed & Breakfast
* BBQ & SNACKS Limited Only